Help for AMU Epicur Moodle Students
1. Moodle Help
2. MS Teams Help

* * *

If you are facing basic login / access issues with AMU Moodle Epicur and your courses here, read this page.

To first join a course offered on this platform, you will need the self-enrolment key that your teacher will most probably email to you via the EPICUR VURS communicator. After you have received the enrolment key:

AMU Students: Locate the right course on the 2020/2021 courses list directly on this AMU Moodle Epicur site, and click on its name. Scroll to the bottom of the course summary page and enter the self-enrolment key.
Non-AMU ALL Students: On the VCLP Dashboard page, in the "My Courses and Groups" section click on the "Access" button next to the course's name. (If the course is not yet listed, please come back again after a while - it should appear shortly). You may need to confirm again on the following pop-up screen. After you land on the AMU Moodle EPICUR course summary page, scroll to the bottom and enter the self-enrolment key.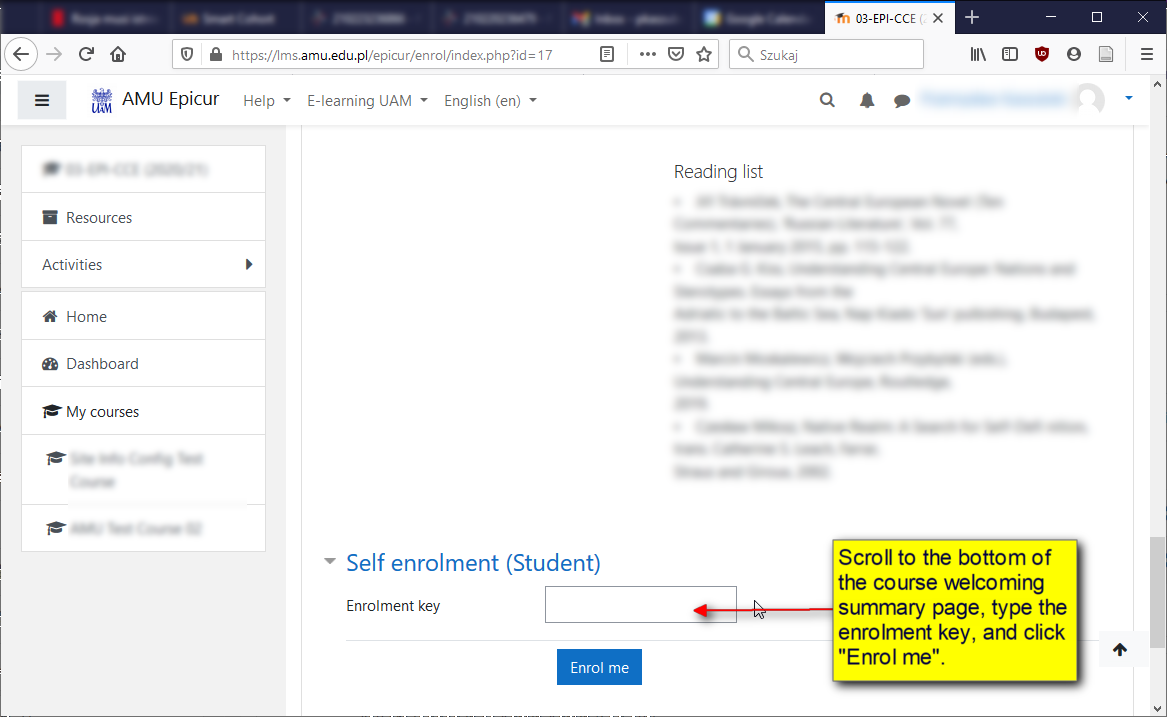 If you cannot access a course because you don't know its self-enrolment key (or because you can see "You can not enrol yourself in this course." at the bottom of the course access page), please contact the course teacher, e.g. via Epicur VURS mail or (AMU Students only) via USOSMail / AMU Student 365 Mail, about how to enter the course.
To open your Moodle Epicur course(s) later on, please follow the same conventions when prompted to log in:
AMU Students - use CAS,
Non-AMU ALL Students - use VCLP login and link.
* * *

For video-conferencing class sessions many courses will use the Microsoft 365 Teams application. You may receive links to MS Teams courses or MS Teams meetings. Most likely, you will actually be invited to join the course teams, and receive email notifications about the online meetings. To join such teams / meetings:
Make sure you have an MS Teams application installed. If you really want to use a browser, it might work fully only in Windows 10 - providing you use MS Edge or Google Chrome.
AMU students should log into their MS apps using AMU student email;
Non-AMU students (and Staff):

If your home university DOES have an institutional MS 365 licence, please use that (e.g. University of Amsterdam students). If your institutional MS 365 email is different from the regular email address registered with EPICUR, please inform your Teacher ASAP, and we will correct any invitations sent;

AUTh Students: You need to activate your AUTh MS office365 accounts to be able to use MS Teams and join AMU Epicur online lectures. The info page (in Greek) is HERE . Note that your email address for MS 365 will be username@office365.auth.gr and AMU Teachers will use that to invite you to MS Teams online groups and sessions. If you decide not to activate your office365 AUTh account, possibly only guest access to Teams sessions will be available.


If your university does NOT have an institutional MS 365 licence, try to use your university email address to set up a new (free) account.
However, some universities may be discouraging or blocking such use of university email:


University of Freiburg Students: You need to use another email address, not the university one, for your (private) MS 365 account to join AMU Teams classes. If you use a private email address for your studies in general, please use that with MS Teams. In any case, please contact your AMU teacher and confirm which email address they should use to invite you to the AMU MS Teams classes.


When joining an AMU MS Team you will probably be asked to accept a new "tennant", i.e. AMU-licensed part of the Microsoft services cloud; please, kindly accept that; your teacher may then have to confirm you.
Please inform your AMU teacher about any problems with connecting to, and taking full advantage of, our Teams online sessions, and we will try to find a way around. Possibly, only (passive) guest access will be available in emergency cases.

* * *

Basic tutorials on how Moodle and MS Teams are used at AMU:
Here also are the original Microsoft Teams help & learning materials.