Jak założyć kurs na Moodle? :: How to start a Moodle course?
(For English version TURN HERE.)

🇵🇱 Najlepszą metodą na założenie strony kursu przez Pracownika UAM jest skorzystanie z linku " Zamów kurs" w lewym menu bocznym (dostępny w rozwijanej sekcji "Nowy kurs") i wypełnienie formularza zgłoszeniowego - na instancji Moodle właściwej dla studentów danej jednostki / szkoły dziedzinowej (pełna lista). W terminie do 48h (zwykle w ten sam dzień roboczy, o ile nie zlecono dodatkowych czynności związanych z kopiowaniem kursu ze "starej" platformy wydziałowej) otrzymacie Państwo od administratora wiadomość zwrotną z linkiem do kursu (jeśli kurs zostanie zatwierdzony), ewentualnie odpowiedź odmowną (wraz z uzasadnieniem i wskazaniem problemu).
🔔 WAŻNE: Prowadzący, którzy na zmodernizowanej platformie Moodle 2021 chcą skopiować istniejący kurs zredagowany wcześniej na (od r.a. 2021/22 archiwalnej) instancji wydziałowej - prosimy zapoznać się z materiałami instruktażowymi pokazującymi:
1) Tworzenie kopii zapasowej kursu Moodle na "starej" platformie;
2) Odtwarzanie kopii zapasowej w kursie na nowej platformie.
(Materiały powyższe pochodzą z "nowego" Moodle OWKO - po pierwszym logowaniu może być konieczne odczekanie 10 min. i odświeżenie strony.)

Prosimy spróbować dokonać odtworzenia kopii swoich kursów samodzielnie - z wyprzedzeniem czasowym na wypadek problemu.

Pomoc w odtworzeniu kursu będzie można uzyskać od koordynatorów e-learningu Państwa jednostki. Można też zgłaszać potrzebę skopiowania starego kursu w formularzu zgłoszeniowym nowego kursu - podając nazwę i **koniecznie dokładny link do starego kursu** w polu "Dodatkowe informacje". Takie dodatkowe zlecenie może przedłużyć procedurę zakładania i zatwierdzania nowego kursu.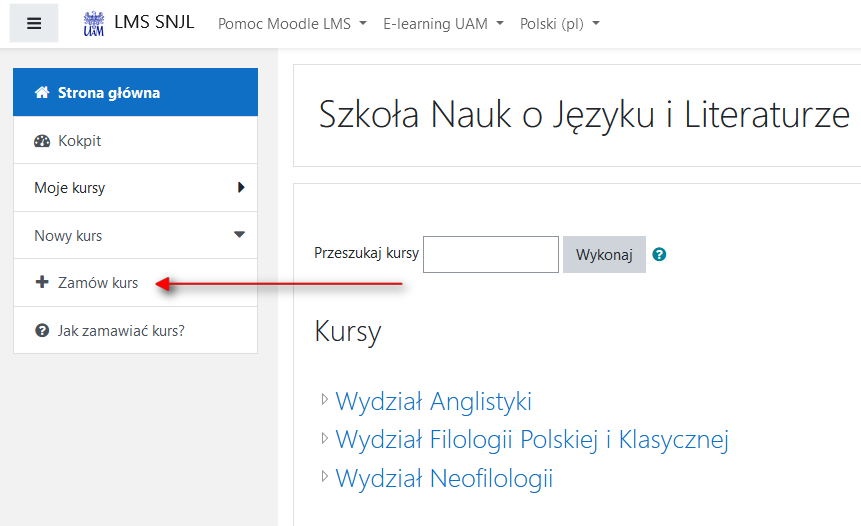 W formularzu zamówienia kursu wypełniamy następujące pozycje (obowiązkowe są oznaczone gwiazdką, ale prosimy także zwrócić uwagę na pole 'Streszczenie"):
Uwagi dodatkowe:

---
🇬🇧 For an AMU Teacher the best way to create a new Moodle course is to use the link " Request a course" in the left side-menu (after expanding the section "New course" if needed) and to then complete a course request form - on the Moodle site as pertinent for the students of a given AMU School, centre or unit (see full list here). Within 48h (usually on the same working day, unless extra assistance has been requested in copying a course from an "older" Moodle platform) the administrator will reply with a link to the course (if granted), or else send a rejection reply (with an explanation and description of the problem).
🔔 IMPORTANT: Teachers wishing to replicate a course from one of the previous Moodle platforms (which become archives after 1 Oct. 2021) to the new Moodle 2021 platform - please use the following tutorials which tell you:
1) How to create a backup of a Moodle course on an older Moodle;
2) How to "restore" the course backup file into a newly obtained course on a new Moodle.
(Note: These tutorials are placed on the "new" Moodle OWKO site - after first logging in, you may need to wait for up to 10 minutes and refresh the screen in order to gain access.)

Please try restoring backup copies of your older courses on your own - do this early enough so any problems encountered can be reported and addressed in time.

You can seek assistance with restoring courses from the e-learning coordinator(s) at your faculty / unit. You may also indicate the need to copy a course in your course request form - including the name and **always the precise link to your older course** in the "Supporting information" field. Please note that such course requests may take longer to process.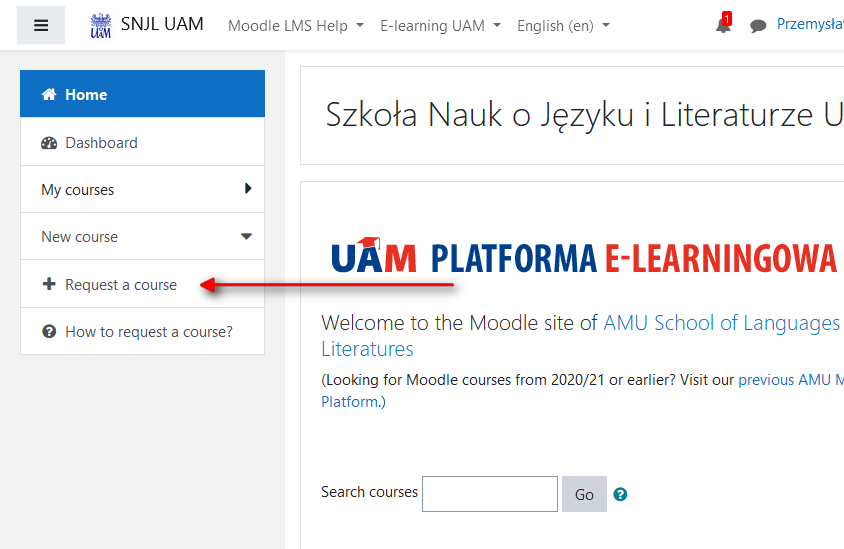 In the course request form you will need to fill in the following fields (mandatory ones are asterisked, but please note 'Summary" also):
Additional notes:

Last modified: Sunday, 31 October 2021, 1:13 PM